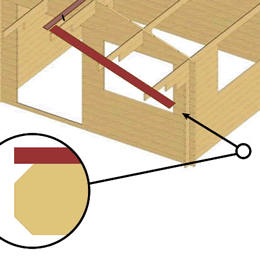 Exactly that. Useful tips for general installation of an interlocking log cabin
2019
Installation Video
Watch this short animated video of how the cabin is installed - it really is as easy as this ........ ...........
2017
Fitting Double Length Wall Boards Over 6m in length
Standard timber for construction is supplied to the mill resulting in a maximum length of 6.0m once it has been milled and prepared for use as a wall board. Although a 6.0m wall can provide a substantial ...........
2015
Fitting Roof Boards
Once all the wall boards, gable ends and roof joists are in place, you are now ready to fit the roof boards. In the first instance, to aid accuracy ...........
2014
Setting Up To Build Your Wooden Garage
When you start to construct your wooden garage using an interlocking log style kit, there are two means to ensure your building starts square and remains that way. First, select one of the long sides and fix it to the concrete ...........
2013
Essential Knowledge for a Successful Cabin Installation
Base Preparation for Log Cabins and Garden Offices A well prepared, level base is required to ensure a long lasting installation. A variety of materials can create a solid base, such as, concrete, railway sleepers, or paving slabs positioned on hardcore. Buildings should ...........
Keeping the Walls Straight
As a first time installer you might find yourself questioning the integrity and or quality of manufacture as you reach ¾ height on the walls ! Depending on the design, you are likely to have the side ...........
Installing the Roof Components
To assist you with the identification of the roof components and how they are used, I thought it would be of benefit to put a post together providing this information. (The supplied instructions sometimes leave a little to be desired ...........
Roof Ventilation in Double Skin Cabins
Insulating the roof makes perfect sense - this is the first place warm air will try and escape, warm air rises after all ! So insulate the roof to reduce losing heat into the outside air. The ...........
Twisted and Bent Wall Logs
Wood is a natural product, it cannot be compared to an inert material such as UPVC or another man made substance. As a natural product, it will be affected by its own growth conditions and subsequent levels of  moisture  that it holds. Some ...........
Fitting Log Cabin Windows
Fitting the windows into your log cabin is a simple process, however, it can often be confusing when you offer the window into the opening and the gap above the window appears to be too wide. This ...........
Fitting Doors to Log Cabins - Gap Above Door Too Big
If you have read our tips on fitting windows then you will already know the nuts and bolts for fitting the doors to your log cabin. The recess for the door frame will again be oversized to allow independent movement between ...........
Expansion Gaps Around Window Frames
Throughout these installation tips, you will come across the fact that wood is a natural product and as such will have  tendencies  to move, expand and contract. For this reason, the openings pre-cut to take the window units are ...........
Settle The Wall Boards into Place
Although machined perfectly straight and uniform at point of manufacture, it is inevitable that wall logs left to their own devices will alter shape due to changing moisture content and temperature. The  result of these deviations from a perfectly straight ...........