Essential Knowledge for a Successful Cabin Installation
Base Preparation for Log Cabins and Garden Offices
A well prepared, level base is required to ensure a long lasting installation.
A variety of materials can create a solid base, such as, concrete, railway sleepers, or paving slabs positioned on hardcore.
Buildings should always have a base as large as the floor (base sizes are given in the technical details for each building). The base sizes given will give you a base that will be approximately in line with the outside walls of the Garden Office or Log Cabin. This allows for better drainage.
If you plan to build a concrete base you can either build one large slab of concrete or strip foundations running perpendicular to the bearers. Strip foundations will give better drainage, though you will need to use some kind of membrane to prevent the plants that are growing in between the concrete strips from coming through the floor boards.
Finished height of your base should be 20-50mm above ground level.
Tools
Good quality DIY hand tools such as drills, hammer, screwdrivers, level, tape measure, saw and a ball of string (to check the diagonals)
Treatment
Timber is a natural product. It will contract and expand with various weather conditions. If left untreated it will deteriorate. You will need to treat your Log Cabin as you assemble it and periodically after that in order to maintain and prolong it's beauty and life
Author - Martin Corby
Posted - 20 Oct 2013
Need Help ?
Call Martin now on
01342 477774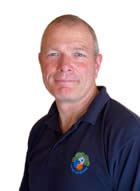 © Copyright 2001 - 2021 Garden Adventure Ltd