Prices from £5,690.00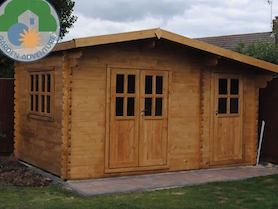 Multi Room Cabin
Logs : 44mm
Apex Roof Line
Double Door Half Glazed
1 Double Window
Double Glazed as Standard
Canopy Depth - 500mm
Roof Boards (Included) - 17mm
Floor Boards (Included) - 19mm
Select size for more details
Prices from £4,790.00
Multi Room Cabin
Logs : 34mm / 44mm / 68mm
Pent Roof Line
Double Door ¾ Glazed
Solid Single Door
Double Glazed as Standard
Roof Boards (Included) - 17mm
Floor Boards (Included) - 19mm
Select size for more details
Prices from £4,790.00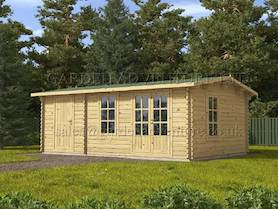 Multi Room Cabin
Logs : 34mm / 44mm / 68mm
Reverse Apex Roof Line
Double Door ¾ Glazed
Solid Single Door
Double Glazed as Standard
Roof Boards (Included) - 17mm
Floor Boards (Included) - 19mm
Select size for more details
If you're looking for a cabin with two rooms, one of which may be a shed facility, then look no further !
We have a number of cabins specifically designed for such a purpose. Since their inception, they have become one of our most popular designs.
The Meribel and Livata cabins are essentially the same apart from the roof structure as we have found there is a need for both a pent roof and apex roof option. No great advantage to either it comes down to personal choice.
Although available in many sizes, starting from a 4x3 and all the way up to 6x4, if none of these standard sizes work for your application, then use the custom size a cabin form to let us know what you require and we can put a quote together.