Here at Garden Adventure we are very pleased to announce our best selling cabin of 2018 is the Grande 4x3 log cabin.
It has proved to be a very successful design, satisfying the needs of customers looking for a summer house, garden office or just additional space in which to "live" in the garden.
Like all our 4x3 log cabins, the Grande is furnished as standard with the following spec :
44mm Wall Logs
Double glazing in glass
19mm tongue and groove roof boards
19mm tongue and groove floor boards
All the above is included in the price you see, no hidden extras - the only item you will need to complete the construction is some means of protecting the roof from the elements. We offer felt shingles as an option, but you can choose to source something locally should you wish.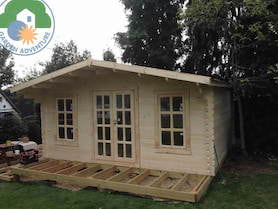 Author - Martin Corby
Posted - 28 Dec 2018