Glamping is here to stay !
For alot of people camping is a great idea but in reality, the thought of risking the UK weather under canvas is a no, no.
Enter "Glamping" - all the joys and experiences of living in the outdoors, close to nature with all the joys that can bring, but with the added luxury of your temporary home being of a structurally sound construction. No risk of the big bad wolf coming along to "blow your house down" !
We have glamping pods for sale manufactured from 34mm wall logs and in two standard sizes : 3x3m and 4x3m, each with a double door to the front elevation and an opening window to the rear
Want to find out more - visit our glamping pod page here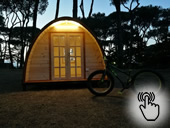 Author - Martin Corby
Posted - 02 Apr 2018