There are a number of reasons why you may want to construct an upgraded, reinforced roof structure :
Plans to use a heavier roofing cover such as slate or concrete tiles
Location - possibility of heavy snow falls
Intention to insulate the roof area with enhanced levels of insulation
The list isn't endless and there are potential cross overs between reasoning - but whatever your thoughts are to consider the reinforced roofing design, this can be provisioned from the factory of, from the diagram below, you can source materials and install locally.
The standard roof comprises of :
Roof joists. In this case, you can see them running front to back and extending over the front wall to create a canopy.
Roof Boards. Attached to the roof joists are the roof boards. These are c.19mm tongue and groove boards
Rafters. These provide additional strength and create a void into which you can place your insulation material.
Breathable Membrane. Covering the insulation material
Batten Riser. A 50x50 timber to create a space between the breathable membrane and the roofing material
Finish. Options here, as per the drawing, you can install battens running perpendicular to the rafters spaced according to the tile requirement OR, use a sheet material to cover the roof onto which felt shingles can be applied.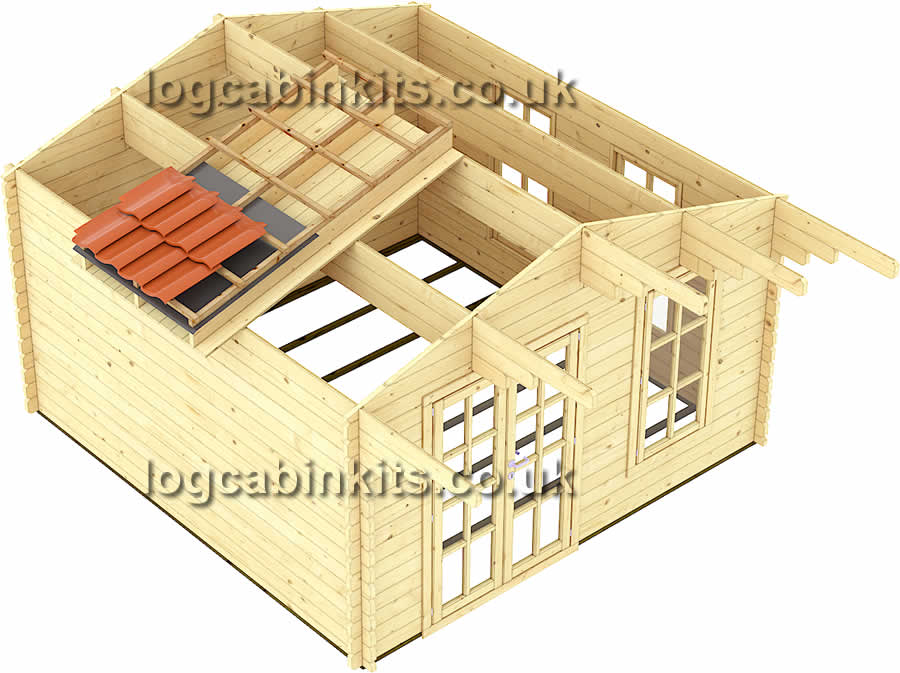 Our cabins are used throughout Europe in all kinds of weather and with unlimited uses
If you have a particular need that has not been covered by any of our articles on log cabins please call or email to see how we can help
Author - Martin Corby
Posted - 25 Jan 2018