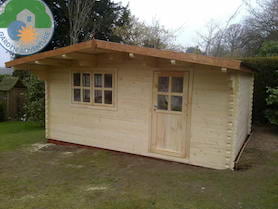 Log Thickness - 68mm
Double glazed with glass
Door style - Single Door Half Glazed
Canopy Depth - 1000mm
Select Size for More Details
In 68mm wall logs, the Lusia cabins are well suited for use 12 months of the year. By insulating the roof and under floor with at least 50mm of celotex or similar and your cabin is going to be nice and snug with just a little heating.
Our standard sizes start at 3.0x3.0m and up to 5.0x5.0 - if you need a size other than this, please email or call the office we will be pleased to offer a bespoke service.
Customer Feedback
Jerry McCarthy
said - "
I purchased a 5m x 5m Plymouth log cabin from Garden Adventure in April of this year. Living in Ireland I had to deal with exchange rates and transferring large sums of money on trust. I also had delivery logics to overcome. Dealing with Martin directly all my problems were easily handled and I felt confident I was being taken care of by a trustworthy man. He also gave me great tips on the construction. I am a carpenter and joiner of over 40 years experience but its always worth gaining knowledge from people are working in specialist areas. The cabin itself is a fine structure and was a pleasure to construct. If you are considering a purchase this is a very safe place to do so.
"
Rating : 5 / 5
Review Date - 11 August 2016
Back to Cabin Detail Page