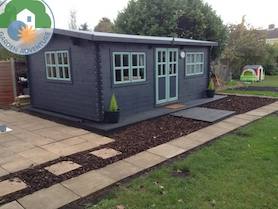 Log Thickness - 44mm
Double glazed with glass
Door style - Double Doors Half Glazed
Canopy Depth - 200mm
Select Size for More Details
Our popular Selva 6x3 log cabin in 44mm wall logs. Great value
Customer Feedback
Jo Barrett
said - "
Looks beatiful Thank you!
"
Rating : 5 / 5
Review Date - 16 February 2018
Simon Wille
said - "
Right from the first contact Martin was excellent and provided great advise not only about the products but about log cabins and building them in general. Once the order had been placed Martin kept me up to date with the progress from the factory through to delivery. As it was Martin and his team built the cabin for me over a couple of days, and did an excellent job. They always arrived when they said they were going to and left the site clean and tidy at the end. The quality of the build and product was as describe and would highly recommend.
"
Rating : 5 / 5
Review Date - 10 August 2020
J A King
said - "
Very nice log cabin! Top quality -it looks great in the garden and was delivered exactly on time with no fuss at all. Will definitely shop here again
"
Rating : 5 / 5
Review Date - 23 March 2018
Sam Wildridge
said - "
Fantastic communication from start to finish. Martin was at the end of the phone to answer any questions we had. The cabin is solid, a great size. The *only* thing I think that could be improved is the instruction sheet that comes with it, as it was extremely hard to read the numbers to the pieces of wood, it took some guess work on our part to make sure it was correct. Would definitely recommend - in fact I already have to several!
"
Rating : 4.5 / 5
Review Date - 9 January 2017
Back to Cabin Detail Page