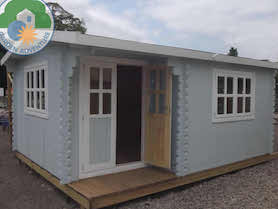 Log Thickness - 44mm
Double glazed with glass
Door style - Double Doors Half Glazed
Canopy Depth - 220mm
Select Size for More Details
Customer Feedback
Mr B Lomas
said - "
This guy was a pleasure to do business with great company Thank you
"
Rating : 5 / 5
Review Date - 9 January 2017
Tony Beginn
said - "
Cabin arrived on time and as described. Installed the next day by a very good team (fueled by tea and bacon sandwiches) with no problems at all. I would highly recommend both Martin and the cabins. Anyone in the Midlands considering a purchase is welcome to come along and have a look.
"
Rating : 5 / 5
Review Date - 11 August 2016
Mr J Churchward
said - "
A first class service from beginning to end. Nothing was too much trouble and emails were quickly answered. Thank you to everyone involved.
"
Rating : 5 / 5
Review Date - 30 September 2019
Anita Dubery
said - "
Good value cabin which was well constructed by the team. They even built the base so everything was managed by Martin, very pleased, would use again but as cabin will last in excess of 25 years I don't need to. I choose the 4m by 3m cabin.
"
Rating : 5 / 5
Review Date - 9 January 2017
Craig Grobety
said - "
Excellent service and product.
"
Rating : 5 / 5
Review Date - 30 October 2019
Mick Jameson
said - "
hi martin from the start to finish everything was great,it all went together with no problems,also the help you gave before we bought the cabin and keeping us informed about delivery times excellent,,thanks M W JAMIESNO
"
Rating : 5 / 5
Review Date - 30 September 2019
Georgina Renda
said - "
The log cabin looks fantastic, very pleased with it and definitely worth the money. We had a couple of issues but Martin was very quick at sorting these out and very helpful. We would buy from Garden Adventure again and would recommend to our friends and family. Thank for all your help Martin.
"
Rating : 4 / 5
Review Date - 30 December 2013
Mr R Todd
said - "
From ordering, all the way through to final completion of self build Martin could not have been more helpful. Delivery was excellent with the driver giving me some top tips through building the cabin. The materials are top quality and the pre cut pieces are perfect. If I had to find something to improve it would be a slightly more descriptive build guide with actual photos, however on the one occasion I struggled to work out an issue a single call to Martin put me right Thank you again
"
Rating : 5 / 5
Review Date - 10 September 2018
Mr A Ritchie
said - "
We ordered an Alpina 5x4m cabin from Martin for our garden. We were a wee bit apprehensive as we are at the opposite end of the country in the north east of Scotland. It arrived safely however and the driver even lifted into our back garden right alongside the base for it! My son in law and my self built the cabin over the weekend and found it very easy to assemble. None of us are joiners just keen amateurs! On the Monday my wife and I put on the shingles. Although this took a bit of time it was straightforward and well with the effort. The cabin looks fantastic. The week after it was assembled we had a week of torrential rainstorms but the cabin remained dry! I can't recommend the cabin highly enough and look forward to many happy years using it. It looks great in the garden. I would have no problem ordering from Martin again and could recommend him to anyone. Sincerely Andrew Ritchie
"
Rating : 5 / 5
Review Date - 30 September 2019
Back to Cabin Detail Page
Need Help ?
Call Martin now on
01342 477774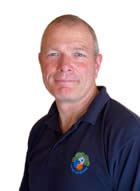 © Copyright 2001 - 2021 Garden Adventure Ltd