We are currently using Barrattine Wood Preserver to treat the external surfaces of the log cabins. We have been impressed with its properties not least the fact that it is oil based and has a number of colour options, including clear. As per the manufacturers instructions we recommend a minimum of two coats, ideally three, to ensure an adequate level of protection.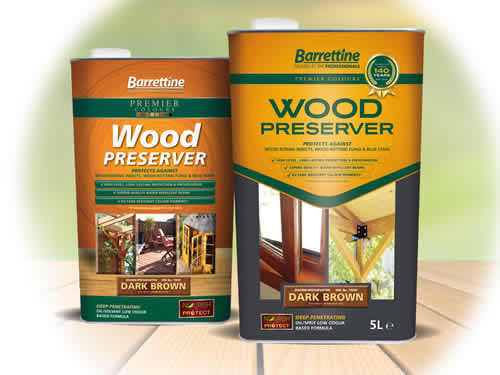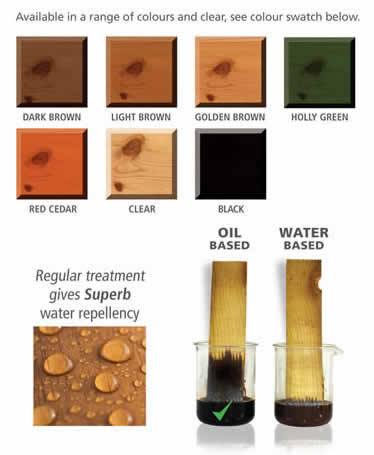 ---
The colour swatches are an indication only and representative of the product applied to clean new/pale timber. The final colour finish can vary considerably due to the age, type & condition of the timber being treated. We always recommend carrying out a test area first in an inconspicuous area to make sure you are happy with the final dried colour.
---
Manufacturers Information
A high-quality, low odour oil/Spirit wood preservative which is deep penetrating. Barrettine wood preserver is used for wood protection against wood destroying fungi (wet rot), wood discolouring fungi and wood boring insects. Provides a semi-transparent matt/satin finish allowing the natural wood texture to be visible. Can be used on pressure treated wood, treated timber or untreated wood. Suitable for rough, sawn or smooth timber, does not require over sealing for wood protection.
No subsequent top coat product required unless for aesthetic purposes. For outdoor use and also for use on windows/frames, external doors/frames (internal and external sections). The Barrettine clear wood preserver can also be used on structural timbers in unoccupied areas such as floor joists.
Application
Can be sprayed using an airless sprayer such as a Wagner or Graco ideally using a minimum 1mm flat fan tip nozzle (9 - 11 thou tip). The sprayer must be thoroughly cleaned after application with white spirit and then oiled to protect the tip and moving parts (as per manufacturer's instructions). This product cannot be sprayed with a traditional pump action garden sprayer.
Ensure wood to be treated is dry, free from dirt and repellent coatings such as paint or varnish. (remove and sand down as required)
Recommend using a biocidal wash such as Barrettine Knockout Mould and Mildew prior to treatment
The final colour finish can vary considerably due to the age, type and condition of the timber being treated. We always recommend carrying out a test area first in an inconspicuous area to make sure you are happy with the final dried colour
Brush, dip, roller or spray in suitable conditions. (When used outdoors make sure weather conditions are dry and still)
Coverage: 180ml per m2 or 1 litre to 5-6 sq metres
Drying times: 12 hours under normal conditions (20°C/65% rel. humidity)
Best results – recommend 2-3 applications/coats
Key Features
Contains Permethrin, Tebuconazole and IPBC
Protects uncontaminated timber against wet rot, decay and wood boring insect attack
Mainly for external applications but some Internal. (refer to internal and external information on the back of the tin/container)
Approved under COPR/BPR
Suitable for rough, sawn or smooth timber, does not require over sealing
Harmless to plants and pets when dry
Oil/solvent based for deeper penetration
Low odour ready to use formulation
Superb quality water repellent resins
UV fade resistant colour pigments
High level, long lasting protection and preservation