Without doubt, our best selling cabin this summer has been the Stella, 44mm 5x3. Its sturdy construction and price cannot be matched by our competitors. Take a look at the spec :
Footprint - 5.0 x 3.0m
44mm wall logs
Double glazing
Opening windows
French doors
All this for just £2186.00 and in most cases delivery is FREE - take a look here to see if you qualify for our free delivery service.
For these reasons, the Cambourne cabin has proved to be a winner for all concerned - take advantage of our great price now before this increases.
If you are thinking about a garden office or leisure area that will be used 12 months of the year, put some heating in, insulate under floor and in the roof and you're going to be snug in all but the most extreme weather conditions. How about just a summer retreat or summer house. With ample room to accommodate your family or friends, why not entertain "in the garden" and enjoy an al fresco ambience with the doors and windows open.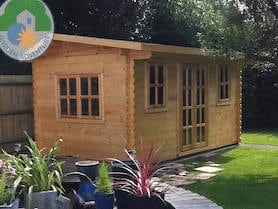 Stella 5x3 Log Cabin
Author - Martin Corby
Posted - 12 Aug 2014