Please note, we are currently unable to supply Rystix cabin treatment.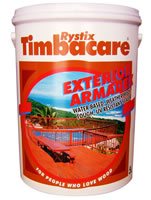 All our cabins are supplied with untreated timbers (apart from the bearers that the cabin sits on) It is imperative you apply a quality timber treatment after completing the build.
There are many products on the market ranging in price and attribute. We are pleased to offer products by Rystix as our preferred supplier for treating timber garden buildings.
Exterior Armadek is an excellent product that we have found to be very reliable and consistent. Here is an extract from their specification sheet :
"Rystix Exterior Armadek is a superior quality water based protective coating specially designed to protect and beautify outdoor wooden decks and can also be used on outdoor furniture and cabins. Armadek is an acrylic based product that forms a tough wear resistant coating on the surface of the timber and is an extremely quick drying, low odour product that is easy to apply."
---
Number of Coats :
Rystix recommend a minimum of 3 coats to build up sufficient layers for longevity, this can be applied by most methods, including brush, roller and sprayer. Quote - "Apply minimum 3 coats to all vertical surfaces (1st coat: primer coat, 2nd coat: under coat, 3rd coat: finishing coat). Recommend applying 4 coats to all horizontal top surfaces eg decks, handrails, stairs, walkways"
Coverage :
A three coat application will average approximately 10 – 14 square meters per litre per coat, depending on the density and porosity of the substrate.
Calculator :
Assuming you intend to apply 3 coats with an average application rate of 12 square meters per litre, add the width and depth of your cabin (in metres) and add 1.
So a 4x3m cabin would require 4+3+1 = 8.0 ltrs of application. 1x 5L can and 3x 1L cans
Colour Options :

Clear

Oregon

Mahogany

Brown

Rosewood

Imbula
Price :

5L Can - £97.95
1L Can - £26.95