Plus Range of Cabins
Our "Plus" cabins come fully equipped as standard. The 34mm version of the cabins are good, but add the "Plus" and you're onto a real winner. With the Plus range you get included:
44mm Double tongue and groove wall logs
Double glazing
Cabin Features :
All included in the standard kit with our garden buildings !!
Log Specification
Log Thickness - 44mm (1¾″)
Note : Solid wall boards machined from graded timber stock with no finger joints. Square cut log ends.
Approximate Internal Dimensions
Please see individual cabin for specific dimensions
Floor and Roof Boards
Floor boards - 19mm tongue and groove
Roof boards - 19mm tongue and groove
Doors and Windows
Double Doors Half Glazed - 1295x1860 (4′ 3″ x 6′ 1″)
Double glazed with glass
Other Dimensions
Canopy : 220mm (0′ 9″)
Floor Bearers: Treated 50x50mm (2"x2")
Note: All cabins 5.0 or less wide can be manufactured with a ridge height of 2.5m which allows it to be constructed without planning permission as close as 500mm to your boundary. See our guide to planning permission here.
If you require this cabin to be manufactured with a maximum height of 2.5m, please advise at point of purchase.
Cabin Options :
Felt Shingles, 7 Colour and Style Options

Plain Glass to Doors and Windows
All glazing is supplied as "plain" glass. Georgian bars are supplied with the kit and can be fitted as required.
Extra Doors and Windows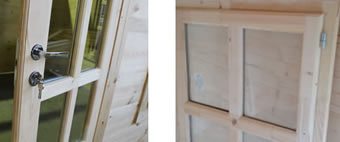 We can supply additional doors and windows for your cabin.
Professional Installation - Prices from £500.00